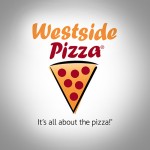 After working under the radar for many local, regional and national clients since 2010, Covert Agency announced their first "official" roster client on May 19, 2014.
"We are proud to say we have signed a Letter of Agreement with Westside Pizza International, a rapidly growing pizza chain in the Pacific Northwest," agency Creative Director Joe Bui said at a small press conference held Monday. "Jason West and his team (led by Rodney Nelson and Aaron Olson) are the perfect match for us because they are as passionate, energetic and motivated about making great pizzas as we are about making great ads."
Billings are undisclosed. But the fledgling creative shop acknowledged that the agency's interests are more long-term and that the agency plans to grow with the client. "When we did our initial brand audit in 2011, they had about a dozen stores. Today they're about to open their 20th location with several more in the planning stage," Interactive Creative Director William Valencia said.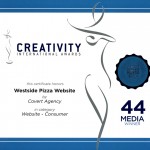 Just a week earlier, the agency was elated to find out that the website they created, westsidepizza.com, had received an Honorable Mention Award for outstanding design in this year's prestigious Creativity International Awards Show. Show Director, Kathleen Richie said, "This year, we had hundreds of entries from all over the world and Covert Agency's work for Westside Pizza really stood out in one of the most prestigious categories. They truly deserved to be acknowledged."
"We were shooting for Gold or Platinum, but we'll take what we can get," Senior Web Designer/Developer, Sam Hubbell was overheard saying to his development team. "It sure beats getting poked in the eye with a stick." (Rumor has it that Sam actually was poked in the eye with a stick when on a family camping trip in Los Padres National Forest the late 90's, so he doesn't make that claim lightly.)
The agency recently designed new pizza boxes for the chain and just helped launch a new Franchisee Recruitment Program. Currently, the agency is working on a year-long promotional email campaign as well as some additional branding materials. As Westside Pizza continues to grow there are plans for more aggressive marketing programs to keep that momentum going.
For more information, please contact Joe Bui, Covert Agency Creative Director at 818.225.8971.
- – end of story – -