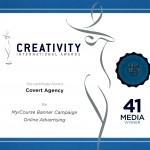 The Covert Agency has received international acclaim for two recent projects in Creativity International's 41st Annual Interactive and Online Media Awards.
Among this year's winning work was the Covert Agency's very own website (which had already garnered two prestigious awards in the local ADDY Awards competition back in March of this year) and a banner campaign developed for MyiCourse.com, the online knowledge-sharing community that encourages its members to "make the most of what they know."
"We like it when our work is acknowledged by our industry peers, and it's especially rewarding when the work we create on behalf of our clients is among that work," said Creative Director Joe Bui.
"I think all of the recent success we've had in the online and interactive awards competitions may be starting to establish a case for a performance/salary review," Interactive CD William Valencia added jubilantly.
"I don't get it. The way most creatives get all worked up over this award show stuff, I wouldn't be surprised if they came up with an award for the most awards won," Business Manager Jennifer Kang was overheard saying.
This year, the Creativity International Awards' talent pool was particularly impressive, because the winning pieces were selected from a much broader field than in previous years. According to Creativity International's website (www.creativityawards.com), "This year's awards… saw an astounding 84% increase in entries" vs. 2010 entries.
The winning work for 2011 represents a truly global cross-section of entrants, with honors going out to various agencies, studios and firms within the U.S., U.K., Canada, France, Italy, Sweden, Denmark, Croatia, Australia, Japan, Korea, Brazil and even the United Arab Emirates.
According to the Creativity International website, their award show is "one of the longest running independent international advertising and graphic design competitions. Each year the judges choose the best designs, advertisements, marketing materials, websites, and commercials from all over the world to be reproduced in the 400-page Creativity Awards Annual."
For more information, please contact Jennifer Kang, Covert Agency Business Manager at 323.899.0579.
– - end of story – -